"Four wheels move the body. Two wheels move the soul."
Motorcycling invokes a lot of senses and it's simply awesome. You feel the wind, you hear the sound of your environment, you smell the land around you and you feel the texture of the road beneath you. It makes you feel good and connects you with the world.
By riding a motorcycle you get that adventurous feel and that feel is a combination of fear, exhilaration, relaxation and pleasure. It boosts your self esteem, self confidence and gives you a rewarding experience.
Everyone follows their own path, which is yours? Harley Davidson, Royal Enfield, Ducati, Indian, KTM, Kawasaki, Yamaha, Triumph Tiger or it's nothing. It all depends on your allegiances.
These are the ones we're dying to ride:
Harley Davidson Sport Glide
We love the look of this bike. Harley isn't for everyone but I wish more people would try a Harley before deciding how it isn't for them. It has a keyless start with an integrated alarm and an electronic cruise control. It even has a USB charger.
Photo Credits: Harleydavidson.com
Tech spec
Engine: Milwaukee Eight 107 (1745cc) V-twin
Torque: 145Nm @ 3250rpm
Transmission: 6-speed, belt drive
Brakes: 4-piston fixed single disc (front); 2-piston floating (rear) with ABS
Tyres: 130/70B18 63H; 190/70B16 77H
Fuel: 18.9 L
Economy: 5.3 L /100km
Wet weight: 317kg
Length: 2325mm
Seat: 680mm
Colours: Vivid Black, Twisted Cherry and Silver Fortune.
I don't like people driving fast, that's the reason why I overtake them.
Royal Enfield Interceptor & Continental GT
It's a motorcycle that delights in the way it handles on the road and allowing anyone to enjoy it. The overall experience on the highway feels like you are gliding on the wind. It's amazing!!!
Royal Enfield Interceptor and Continental GT are the bikes designed to take Royal Enfield from the motorcycles that drives India to one that drives the rest of the world as well.
Photo Credits: smedia2.intoday.in
Tech spec
Engine: 4 stroke, Parallel Twin, Single Over Head Camshaft (SOHC) – 648cc
Torque: 52 Nm @ 5250 rpm
Transmission: 6-speed
Brakes: 320mm disc ABS (front), 240 mm disc ABS (rear)
Tyres: 130/70-18; 100/90-18
Fuel: 12.5 L
Kerb weight(no fuel) 199kg
Length: 2122mm
Colours: Sea Nymph, Chrome, Ice Queen and Black Magic.
I never really questioned why I ride, because for me it is as basic as breathing.
Indian FTR1200 Custom
Indian is an American brand of motorcycles. Indian President of Motorcycles, Steve Menneto, said: "We built this bike to celebrate the FTR750's dominant performance in American Flat Track and Indian's return to racing. To come up with this one-off custom, we worked closely with the Indian Motorcycle Racing team to execute a vision of what a bike could look like if we brought the FTR platform to the street. We are excited by the positive feedback on the FTR750 and the opportunities to grow the brand globally in the next five years."
Photo Credits: motorcycle.com
Tech spec
Engine: 1133cc V-twin
Torque: 94bhp @ 8000rpm(est)
Brakes: Brembo callipers and Lyndall Crown Cut rotors
Weight: 194kg
Wheelbase: 1518mm
Rake/Trail: 94mm
Suspension: Fully adjustable Ohlins fork and monoshock
Rolling stock: RSD Traction race wheels with Dunlop DT3 dirt track tires
Body: Two-piece carbon-fiber body with LED headlight and integrated LED stop/turn/taillight
A motorcycle functions entirely in accordance with the laws of reason, and a study of the art of motorcycle maintenance is really a miniature study of the art of rationality itself. – Robert M. Pirsig, Zen and the Art of Motorcycle Maintenance
Ducati Panigale V4
"Ducati is a global brand with a strong Italian soul: sporty spirit, design excellence, love for beauty, capable of giving thrilling emotion and building unique experiences" – Claudio Domenicali
Photo Credits: Ducati.com
Tech spec
Engine: Desmosedici Stradale 90° V4, rearward-rotating crankshaft, 4 Desmodromically actuated valves per cylinder, 1103cc liquid cooled V4
Torque: 124.0Nm(91.5 lb-ft) @ 10,000rpm
Transmission: 6-speed/chain
Front brakes: Brembo Stylema Monoblock callipers, 330mm discs; ABS standard
Rear brake: Brembo two-piston calliper, 220mm rotor; ABS standard
Fuel: 4.2 gal
Claimed weight 430 lb
Seat Height: 830 mm (32.48 in)
Colours: Red with grey frames and black wheels.
For some there's therapy, for the rest of us there's motorcycles.
KTM 790 Duke
790 Duke is one of the most exciting bikes developed with one task in mind: to dominate the street. KTM believes they've got the most "performance-focused mid-weight travel enduro of its class, with a dynamism and power-to-weight ratio normally found in larger displacement bikes."
Photo Credits: KTM.com
Tech spec
Engine: 799 cc liquid cooled eight-valve DOHC
Transmission 6-speed
Power in kw 77kw
Fuel consumption 4.4 gal
Suspension travel: 140mm(front), 150mm(rear)
Front brake: Four-piston radial fixed calliper
Rear brake: Single-piston floating calliper, brake disc
Seat height: 825mm
Dry weight: 169 kg
Tank capacity: 14 L
Frame design: Chromium- Molybdenum-Steel frame using the engine as stressed element, powder coated.
Riding a race bike is an art – a thing that you do because you feel something inside. – Valentino Rossi
Kawasaki H2 SX
"It's almost as if they're a little bit worried some sports-tourer riders might be put off by the extremes of performance associated with supercharging. No one should be put off. Supercharged doesn't mean super-aggressive. For the Ninja H2 SX, it means super-powerful but also versatile and manageable." — Steve Farrell, Visor Down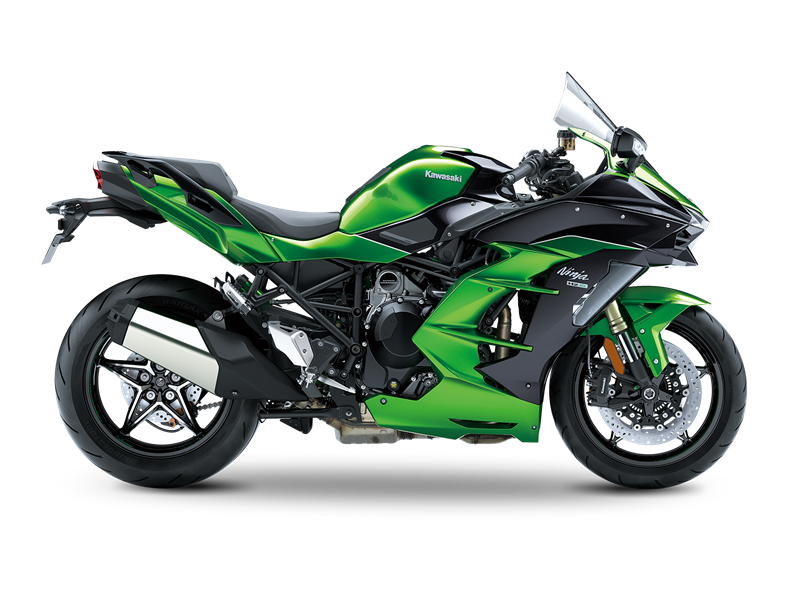 Photo Credits: kawasaki.eu
Tech spec
Displacement: 998cc
Maximum Power: 200 PS @ 11,000 rpm
Maximum Torque: 137.3 Nm @ 9500 rpm
Number of Cylinders 4
Number of Gears 6
Seat Height: 835mm
Ground Clearance: 130mm
Kerb/Wet Weight: 256 kg
Fuel Tank Capacity: 19 L
It's not about the destination, it's about the ride.
Yamaha Niken
A motorcycle company comes out with three-wheeled vehicle, it's a surprise. Yamaha says the benefit of the Leaning Multi-Wheeler is that it "reduces the effects of changing ride environments and to deliver a high feeling of stability when cornering."
Photo Credits: yamahamotorsports
Tech spec
Displacement: 847cc
Maximum Power: 115 HP @ 10,000 rpm
Maximum Torque: 87.5 Nm @ 8500 rpm
Number of Cylinders 3
Number of Gears: 6
Seat Height: 820mm
Ground Clearance: 150mm
Kerb/Wet Weight: 263 kg
Fuel Tank Capacity: 18 L
Bring. It. On! It's going to be a future Chariot.
Triumph Tiger 800 XC
A motorcycle is supposed to make its rider look good. The Tiger 800 is a beautiful machine. The new Tiger 800 XC and XR family takes this celebrated range to a new level, our Tigers are better in every way, off road and on.
Photo Credits: triumphmotorcycles.co.uk
Tech spec
Displacement: 800cc
Maximum Power: 93.7 BHP @ 9250 rpm
Maximum Torque: 79 Nm @ 7850 rpm
Number of Cylinders 3
Number of Gears: 6
Seat Height: 840 – 860 mm
Kerb/Wet Weight: 221 kg
Fuel Tank Capacity: 19 L
In a car you're always in a compartment, and because you're used to it you don't realize that through that car window everything you see is just more TV. You're a passive observer and it is all moving by you boringly in a frame. On a cycle the frame is gone. You're completely in contact with it all. You're in the scene, not just watching it anymore, and the sense of presence is overwhelming – Robert Pirsig
There are different bikes to suit different styles. There is truly nothing like riding a motorcycle and it gives you tremendous amount of fun in the experience of riding.
It's not a race. It's the journey. Enjoy the moment. Never ride faster than your guardian angel can fly. To Travel is to live. Happy Riding 🙂